Katey Sagal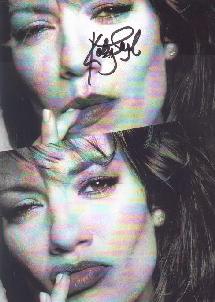 ---
BIOGRAPHY



STATISTICS

Full name: Catherine Louise Sagal. Was "Katie" in the seventies.
Birth:     Born 19th January, 1955 or 1956, in Hollywood, California.
Family:    Father: Boris Sagal, a Russian-Jewish TV and film director.
           Mother: Sara Zwilling, a singer/writer/producer/director.
           Two younger brothers, David and Joe(y).
           Two younger twin sisters Elizabeth (Liz) and Jean.
           Husband: Freddie Beckmeyer (1977 - 1980); Jack White (Nov 1993 - July 2000);
           Kurt Sutter (October 2004 - present).
           Children: Sarah Grace (b. Aug 7th, 1994) and Jackson James (b. Mar 1st, 1996);
           Esme Louise (b. Jan 10th, 2007).
Height:    5'9"
Hair:      Dark as a child; red from 1986-1991; brown or black 1993 to present. 
           She occasionally goes blonde, also.
Eyes:      Brown
Hobbies:   Music! Plays guitar and piano.



BEFORE THE SHOW

 This woman has had quite a life. Katey Sagal was born into a showbiz family. Her
 father was a TV and film director who directed such films as "The Omega Man" and
 "Girl Happy", mini-series like "Rich Man, Poor Man", and TV series such as "Dr 
 Kildare", "Peter Gunn", "The Twilight Zone" and "Man From U.N.C.L.E." Katey met 
 Elvis Presley when her father was working on the movie "Girl Happy" in 1965.

 Katey's first love is singing. She plays the guitar and began playing the piano
 at the age of fifteen. Her mother was a singer, and Katey has been singing
 since she was five years old. Even as a girl scout she would be singing and
 playing her guitar. Katey has report cards for kindergarten and elementary school
 that say things like "She doesn't pay much attention but she has a great singing
 voice." Katey's father did not really tolerate Katey as a 'wild musician' and
 decided that she should act, rather than anything else, if she were to pursue a
 professional career in show business. Except for her brother, David, who is a
 lawyer (Harvard Law School), all of Katey's siblings went into showbiz. Her twin
 sisters, Jean and Liz, formerly of the 1984-85 television series "Double Trouble",
 now work behind the scenes on television shows. Katey lived in several homes as a
 child, as her father was "wherever the work was". She lived in LA's Mandeville 
 Canyon when she was 12. Katey attended many different schools, where she tried 
 desperately for the people to like her; she would pretty much bribe people by 
 taking them to her father's movie sets. 
 Katey attended Palisades High School from 1968.

 Katey's father had put her in some of his TV movies to get her Screen Actor's
 Guild Card and health insurance. The first one was "The Failing of Raymond" (1971),
 and Katey played an escapee from a mental institution who didn't talk much.

 Katey's mother had been diagnosed with heart disease and she died in 1975, leaving
 Katey to help raise her younger siblings. Her father eventually met and married
 Marge Champion, a dancer/choreographer. Boris died in a freak accident in May 1981,
 on the set of "World War III" (which he was directing) when he got struck head on
 by a helicopter rotorblade. After she lost her parents, Katey experienced a period
 in her life when she was "abusing" alcohol and drugs. She eventually got the help
 she was after, thanks to her own strength and the kindness of Mary Tyler Moore.
 She has been completely clean and sober ever since.
 
 Katey sang backing vocals for a lot of people over the years. She was also a
 singing waitress at The Great American Food And Beverage Company and a door-to-
 door sandwich sales girl. Among the people she has backed up are: Bette Midler
 (as a Harlette), Bob Dylan (for two months only, before half the band and all the
 singers were fired), Etta James, Tanya Tucker, Molly Hatchet "Take No Prisoners"
 (1981), Olivia Newton-John "Soul Kiss" (1985), David Della Rossa "Nothin' But
 Trouble" (1987), Gene Simmons "Gene Simmons" (1978), Carolyn Ray and Paolinho da
 Costa. Katey also dated Gene Simmons for a short while.
 Katey and her singing waiter friends formed a band. After meeting Gene Simmons
 in their restaurant, they were taken to Neil Bogart's (President of Casablanca
 Records) office. They released a record, "Moon Over Brooklyn", in 1976. The band
 was nameless until the day before the record was marketed, then they decided to 
 call themselves The Group With No Name. The record didn't do too well, and the
 band did not last very long after that.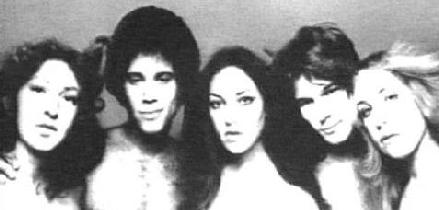 From 1978 to 1983, Katey worked on and off for Bette Midler, as one of The Staggering Harlettes. 1978 also included Bette Midler's international tour. Katey decided to leave the Harlettes before Bette's 1979 "Divine Madness" tour, but she joined them again for the 1982/83 "De Tour". Katey only recorded one song with Bette in studio - the song "Soda And A Souvenir" on Midler's 1983 album "No Frills". When she was twenty-one, Katey had her first marriage, to bass player Freddie Beckmeyer. The marriage only lasted three years, as both musicians were on the road often and rarely saw each other. In 1972, Katey studied theatre and acting at the California Institute of the Arts, but quit a year later, intending to focus more on her music. In 1985, she starred in the rock opera "The Beautiful Lady", at the Music Centre in Los Angeles. She won the Drama Logue Award for Best Actress for this performance. A CBS casting agent saw her performance and wanted to sign her up. They asked her to audition for the role of the hard-bitten, chain-smoking Jo Tucker in Mary Tyler Moore's new sitcom "Mary". She got the job, but the series only lasted 13 episodes. The show also featured Harold Sylvester, who would later play Griff on Married with Children.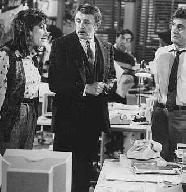 One of MWC's producer's (Ron Leavitt, presumably) wives saw Katey on "Mary" and suggested her husband should audition her for the role of Peggy Bundy, in their new pilot series, in 1986. Originally, Roseanne was thought of for the Peggy part. Luckily, they found a true talent in Ms. Sagal, and needless to say, Katey got the part she will forever be best known for, and forming one of television's most successful on-screen chemistries between her and Ed O'Neill. DURING THE SHOW Katey was partially responsible for the Peggy Bundy look and style. Peggy was originally planned to be a couch potato, like Al, like someone who never got dressed. Katey thought Peg should be more "dolled up" and she helped come up with Peg's bouffant hairstyle and chose the shoes, which in turn created the Peggy Bundy walk. Katey used her real hair for the role of Peggy from the start of the show to until the end of the fourth season (1990). After that, she used a $4,000 wig. It had to replaced at least once every season due to the intensity of TV studio lights. After the airing of "Her Cups Runneth Over" (0306) in 1989, one of Peggy's bras was put on display in the Bra Hall of Fame in Frederick's of Hollywood Lingerie Museum. It was stolen in the LA riots in 1993, along with Madonna's bustier and Ava Gardner's pantaloons, but the thief turned it in (to his priest!) Katey keeps her Peggy wig in her basement, in a plexiglass box. Katey always thought that "When I got to be an adult, tragedies wouldn't happen", then Katey became pregnant with her first child in October 1990 and in December, she miscarried. In March 1991, however, she became pregnant with a baby due to be born in December. Therefore a new storyline for the new Married with Children season (season six) was written - Peggy and Marcy were both expecting babies. The season premiere had the biggest audience of any MWC episode ever (29.2 million). Katey also played an expectant mother in the NBC TV movie "Violation of Trust" aka "She Says She's Innocent", while on hiatus from filming MWC in 1991. Six episodes with a pregnant Peg were produced, until October 13, when Katey was absent from rehearsal one day. Katey had been rushed to the Cedars-Sinai Medical Centre, where, after seven months of pregnancy, and six weeks premature, her baby Ruby Alexandra White was stillborn. Katey managed not to let herself fall apart completely. She was reportedly willing to continue the storyline on MWC, but the producers thankfully dropped it and explained it all as horrible dream of Al's in "Al Bundy, Shoe Dick" (0611). Katey was absent four episodes of the show due to her recovery. On Thanksgiving weekend, November 26, 1993, Katey married her boyfriend of four years, Jack White, on a spur-of-the-moment decision in Nashville. Jack is a musician and a photographer, and he often did publicity photos for "Married with Children". Katey was pregnant again by the end of the eighth season of MWC. She kept this pregnancy as quiet as she could from the public, unlike her previous one, which the entire world knew about. Therefore, Katey was filmed only from the waist up, or pre- taped and aired as being 'on the phone' from Wanker County. On August 7th, 1994, her daughter, Sarah Grace, was born. As a result, Katey was absent from MWC's first four episodes of the ninth season. Then, following the successful delivery of perfectly healthy Sarah, Katey gave birth to her son, Jackson James, on March 1st, 1996. This time, Katey was absent for five episodes in late season ten. She returned just in time to tape the season finale. Katey continued to sing throughout the show's run. She sang in the choir "Voices That Care" in 1991. She released her first solo CD entitled "Well..." in 1994 on Virgin Records, in which she wrote or co-wrote 9 out of the 12 tracks. Her husband is the drummer in 7 out of the 12 tracks. Katey also sang the National Anthem at the World Series in 1996. Katey was nominated for a few awards, for Married with Children: Golden Globe nominations in 1991, 1992, 1993, 1994 and was awarded the American Comedy Award in 1990 and 1992. Katey is an active participant in charities to help the homeless (e.g Housing Now), people with diseases, animals (she's vegetarian), and the Earth. She and Ken Solomon were awarded with a Special Merit for their work with the H.E.L.P. group in 1996/97. AFTER THE SHOW Katey had more of an opportunity to spend time with her children when Married with Children was cancelled in 1997, but soon Katey signed an exclusive two-year deal with CBS to make Movies of the Week and a pilot for a TV series. The TV show "Earth Scum", with Mark Addy, was piloted in 1998, but it never made it to television. The CBS deal included Katey wearing 50 pounds of padding for a TV movie called "Chance of a Lifetime" with John Ritter, then the three following movies: "Mr. Headmistress" (1998), "God's New Plan" aka "No Higher Love" (1999) and an original Disney movie called "Smart House" (1999). Katey made a guest appearance on "That '70s Show" as "Gross" Edna Hyde in late 1998. Since 1998, Katey gives her voice to the character of Leela on the FOX animation "Futurama", which was cancelled in 2004, but is coming back to TV. Four movies are planned for release 2007-08, and with popular demand and high DVD sales, the series has been recommissioned. These four movies will be broken down into sixteen episodes, which will air on Comedy Central in 2008.
Katey had a concert in December 1999, in LA, at the Mark Taper Forum; "A Journey Into the Junk Drawer of the Mind". In 2000, Katey played Claire Wennick, the aunt to the title character in the NBC series "Tucker", which unfortunately got cancelled after 13 episodes were produced (4 had aired in primetime.) Early 2002 saw Katey in the NBC series "Imagine That" with Hank Azaria. This show was pulled after just two episodes (five were produced). In July 2000, Katey and her husband filed for divorce, citing "irreconcilable differences" as the reason for the split, according to the Los Angeles Court. Katey and Jack share custody of their two children. Katey then enjoyed massive success with her new show, "8 Simple Rules For Dating My Teenage Daughter", in which she plays Cate Hennessey, wife of Paul, who is played by her "Chance of a Lifetime" co-star John Ritter.
8SR was awarded the People's Choice Award for Favorite New Comedy Series in January 2003. After John Ritter's sudden death in September 2003, the show continued its second season without him, and added two new characters. Katey won an Peabody award for the episode "Consequences", which focuses on drugs. 8SR lasted until the end of its third season in 2005, when ratings dropped after a change in timeslot. Ed O'Neill reunited with Katey in a third season episode.
Katey has married for the third time, to Kurt Sutter, a writer who works on shows like "The Shield". They married October 2004. On January 10th 2007, Katey and Kurt became parents for the first time together -- a girl named Esme Louise Sutter was born via a surrogate. She released a new album, "Room" in 2004, a mixture of new and cover songs. Her husband penned one song, "Wish I Was A Kid". Another album is constantly rumoured to be in the works. Katey has made several TV movies and guest appearances since "8 Simple Rules" ended. She's had recurring roles on "Lost", "The Shield", "Boston Legal" and "Eli Stone". In 2008, she had a guest-starring role on "CSI" where she played a Roseanne-esque sitcom diva. :) "Futurama" returned thanks to high demand from fans as four movie-length DVDs in 2008, and a new series will air on Comedy Central in 2010. Katey receives high praise from fans and critics in her current role - as tough matriach Gemma Teller Morrow on FX's "Sons of Anarchy", opposite Charlie Hunnam and Ron Perlman. The show was created by her husband and debuted in 2008. It has been described as "Hamlet on Harleys" and is definitely not for the faint-hearted. Katey has done cover versions of "Son of a Preacher Man" and "Ruby Tuesday" for the show.
FILMOGRAPHY FILMS Date Title 1987 Maid To Order 1988 The Good Mother 1990 Mother Goose's Rock 'n' Rhyme 2000 Dropping Out 2002 Following Tildy 2005 I'm Reed Fish 2008 Jack And The Beanstalk 2009 House Broken TELEVISION MOVIES / MINI-SERIES Date Title 1971 The Failing Of Raymond 1973 Columbo: Candidate For Crime 1975 The Dream Makers 1991 Violation Of Trust AKA She Says She's Innocent 1995 Trail Of Tears 1997 Chance Of A Lifetime 1998 Mr. Headmistress 1999 God's New Plan AKA No Higher Love 1999 Smart House 2004 When Angels Come To Town 2005 Campus Confidential 2005 Three Wise Guys TELEVISION SERIES Date Title 1985 Mary 1987-97 Married with Children 1987 Hollywood Squares 1990 Tales From the Crypt - "For Cryin' Out Loud" 1994 Duckman (voice only) - "As The Germ Turns" 1996 Space Cases (voice only) - "Mother Knows Best" 1997-99 Recess (voice only) 1998 That '70s Show - "Career Day" 1998 Earth Scum 1999-04 Futurama (voice only) 2000 Tucker 2001 The Geena Davis Show - "Girl's Night Out" 2002 Imagine That 2002-05 8 Simple Rules For Dating My Teenage Daughter 2005 The Shield - "Grave" 2005 Lost - "Orientation" and "Lockdown" 2005 Ghost Whisperer - "Undead Comic" 2006 Boston Legal - five episodes 2007 The Winner - "Hot For Teacher" 2007 The Shield - "Exiled" 2008 Eli Stone - "Patience" and "Waiting For That Day" 2008 CSI: Crime Scene Investigation - "Two And A Half Deaths" 2008- Sons Of Anarchy INTERVIEWS / SPECIALS Date Program 1989 Arsenio Hall Show 1989 Late Show 1989 Attitudes 1989 The Joan Rivers Show 1989 Emmys (presenting with Ed O'Neill) 1989 American Comedy Awards 1990 Save The Planet 1990 American Comedy Awards 1990 International Rock Awards 1990 Emmys (presenting with Bob Saget) 1991 Entertainment Tonight 1991 One on One with John Tesh 1992 Extreme Close Up 1993 The Tonight Show with Jay Leno 1993 The Whoopi Goldberg Show 1993 An Evening At The Improv 1993 MTV's Video Music Awards 1993 Good Morning LA 1993 The Tonight Show with Jay Leno 1993 Lou Rawls Television Special 1994 Late Night with Conan O'Brien 1994 Later 1994 The Jon Stewart Show 1994 The Dennis Miller Show 1994 Geld Oder Liebe (German) 1994 Late Night with Conan O'Brien 1995 Late Night mit Thomas Gottschalk (German) 1995 Nachtshow mit Thomas Koschwitz (German) 1995 RTL Samstag Nacht (German) 1996 The Rosie O'Donnell Show 1997 Golden Globe Nominations 1997 Screen Actor's Guild Awards 1998 Live with Regis and Kathie Lee 1998 Vibe 1999 The Howie Mandel Show 1999 Politically Incorrect 1999 Futurama Behind The Scenes Preview 1999 Donny and Marie 2000 Pyjama Party 2000 Live with Regis 2000 Celebrity Profile 2000 Intimate Portrait 2000 Pyjama Party 2002 Late Late Show with Craig Kilborn 2002 Entertainment Tonight 2002 E! News Live 2002 ABC's Christmas in Apsen 2003 29th People's Choice Awards 2003 The View 2003 The Caroline Rhea Show 2003 Late Late Show with Craig Kilborn 2003 The View 2004 The View 2004 Larry King Live 2005 Martha 2005 Ellen Degeneres Show 2005 Late Late Show with Craig Ferguson 2006 Late Late Show with Craig Ferguson 2009 The View 2009 Late Night with Jimmy Fallon STAGE Date Title 1985 The Beautiful Lady 19?? Backstreet 19?? Esther 19?? Two Gentlemen of Verona RADIO PLAYS Date Title 1996 The Stealer of Souls MUSIC Date Title 1976 The Group with No Name - "Moon Over Brooklyn" 1978-83 Harlette (with Bette Midler) 1976-85 other back-up work 1988 Plain Clothes - "Ain't Got Nobody" - duet with Billy Sherwood (movie soundtrack) 1989 Loose Cannons - "Loose Cannons" - with Dan Ackroyd (movie soundtrack) 1990 Voices That Care 1994 Well... 2003 ABC's Christmas in Aspen special - "A Christmas Song" 2004 (room OTHER / MISCELLANEOUS Promotional speech for "Rock the Vote" in 1990. Promotions for Married with Children's syndication. "Love-Makers" audio book in 1991. "Return of the Blues Brothers" concert in the 'House of Blues' in LA, singing "Driving Wheel", January 1995. Hosted the AIDS Project Los Angeles Party - the Playboy Mansion September 7th, 1996. Commercials for Victoria's Secret; for push-up bras and WonderBras in 1996. NBC Fall Preview Party online chat at Talk City (5/15/2000) ABC's Premiere Preview Weekend KATEY WEBSITES Sagal-lery (German language; many pics) Ultimate Katey


---
Have I missed something? Let me know

Otherwise, head on back