Ed O'Neill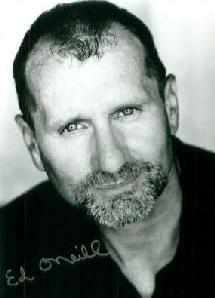 ---
BIOGRAPHY


STATISTICS

Full name: Edward O'Neill, Jr. (middle name is rumoured to be Phillip)
Birth:     Born April 12, 1946, in Youngstown, Ohio.
Family:    Father, Edward Sr. was a steelworker. His mother, Ruth, a social worker.
           Two younger brothers and two younger sisters 
           Wife: Catherine (Cathy) Rusoff since 1986.
           Two young daughters, Claire (b. 1999) and Sofia (b. 2006)
Height:    6'1"
Eyes:      Blue; wears glasses.
Hobbies:   Cooking. Has been playing Handball for about 30 years.
           Has studied Brazilian Jui-Jitsu (a form of self-defense) for 
           almost 20 years with the Gracie family. Recently received his black belt.



BEFORE THE SHOW

 Ed played football through high school and college. Though he did love football,
 he thought that this would be the way to attract girls, but soon found out he
 was wrong. He played for the Youngstown State University (The "Penguins") and Ohio
 University. He was a Rookie (Chuck Knolls' first year) with the Pittsburgh
 Steelers in 1969, but was soon cut because he was "undisciplined and unruly" and
 never got along with head coaches, though he was a good player.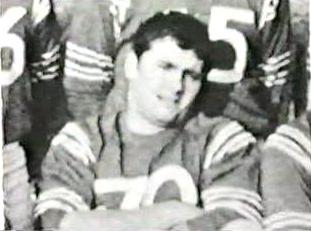 He felt that football was something he had to do, rather than something he wanted to do. He soon discovered that his real love was for acting. Once cut from the Steelers, Ed decided to begin studying theatre. In Youngstown, he scored a part in "Rainmaker", which then lead to the role of the Greek guard in "Antigone". After that, he enrolled in some acting courses. He also taught Grade six (slow learners) Social Studies whilst studying arts and theatre at Ohio University. It wasn't until 1977 that Ed decided to pursue acting as a profession. Unless I have solid evidence to the contrary, Ed was not in Deliverance! Ed had many jobs over the years. He was a bellhop in a hotel (and even got a visit by the Pittsburgh Steelers!); a bartender; a steelworker; he taught speed reading; even once became a used car salesman. He was a waiter at the ripe age of 30. He moved to New York where he began to study in New York's Circle in the Square. Contrary to popular belief, Ed was not in the 1972 movie "Deliverance". From May 6 to September 16, 1979, Ed played 1948 psychotic boxer, Paddy Klonski, in the Broadway play "Knockout" with Danny Aiello at the Helen Hayes Theatre in New York. His first biggish movie part was in "Cruising" (with Al Pacino) in 1980, credited as 'Edward O'Neil'. Also in 1980, Ed had a small role in "Dogs Of War". Ed was considered for the lead role in "Cheers" in 1982. The character of Sam Malone was originally planned to be a football player, and Ed was going to play him. Then the producers changed it to a baseball pitcher and Ted Danson got the role instead. Ed was also being considered for the leads in "Family Ties" ("You could not get a guy who was wronger for the part!") and "Hill Street Blues" (which he didn't really care for.) Ed played roles both big and small in various TV movies before performing in "Of Mice And Men" in a Connecticut theatre. It was there that an executive from a new network, called FOX, attended. After viewing, he asked Ed to audition for the first sitcom for this new network. Though he did not particularly want to do a sitcom, Ed agreed to audition, thinking he'd do a quick six shows, get some Christmas cash and that'd be it. He read the Pilot script and thought it was funny and original. He got called back for another audition. Ed wasn't sure he should go. He gave the script to his wife and she started to laugh whilst reading it. It was then that Ed knew he wanted the part of Al Bundy. And nobody could have played it better. DURING THE SHOW Ed believes that the pilot episode of Married with Children had excellent reviews, but that didn't stop him from thinking that they would only do six episodes and then be off the air. He didn't think that MWC would find an audience, but the first season, containing 13 episodes, completely proved Ed wrong; let alone eleven years. By the fourth season, Al Bundy was a national television blue-collar hero. Ed acted in many movies during the eleven years that MWC lasted. He also hosted Saturday Night Live in Janurary 1990. He was the first star from the FOX network to host SNL. A "Wayne's World" sketch in this show Ed was in was possibly a lead-in for his appearance in both feature films (in which he is given the special 'and' credit.) His wife, Cathy, appeared on MWC twice, once in 1988 ("Just Married... With Children" [220]) and again in 1991. ("If Al Had A hammer" [603]) In 1991, a story was released in one of the gossip magazines that Ed and Christina Applegate were rumoured to be having an affair. Ed was amused by this story, Christina horrified. (It wasn't true, by the way.) Ed was orginally cast in the film "Flight Of The Intruder", but once previewed, he had to be cut out of the film because audiences could not accept the fact that it was "Al Bundy in the army". Ed was honoured with a Golden Globe nomination in 1992 and 1993, but it being MWC meant he wouldn't win, of course. MWC has never really been appreciated in the awards industry. Ed could see that MWC was running out of steam by the end, once commenting that "it's hard to think of fresh ideas after the first 100 episodes." When MWC was finally cancelled, cast members were saddened, yet happy for the opportunity to do other things, particularly Ed. He was beginning to feel that he was not an actor anymore, just some guy waiting for retirement. Ed has a lot of difficulty being respected as he is still recognised as Al Bundy wherever he goes. He had realised before 1993 that he'd been typecast, because "Bundy is such a hard character to get out of people's minds, and I'm always gonna look like the guy." AFTER THE SHOW Since MWC's cancellation, Ed has acted in several movies and the ten-hour mini-series "The Tenth Kingdom". He sweetly surprised Christina Applegate on the set of her new show "Jesse" in 1998. He is the spokesman, and can be seen in commercials as the Phone Patrol for 1-800-COLLECT. He has appeared in a couple of plays, and has a particular fondess for David Mamet. He got a new show, "Big Apple", in early 2001 on CBS. Unfortunately, running against "ER" it was cancelled after just five episodes. Ed then came back playing another cop, possibly one of the most famous ever - Joe Friday - in the new "Dragnet" series on ABC, which lasted two seasons. After the first season, they changed the cast (except for Ed) and renamed it "L.A. Dragnet" for some reason, and the show went downhill and was eventually cancelled in 2004. Ed reunited with Katey Sagal in an episode of her show, "8 Simple Rules". He continues to act in movies and TV shows. He had a recurring role on "The West Wing". Another series, "John From Cincinnatti", ran for one series (10 episodes) on HBO in 2007. Ed has now found success on the new ABC show "Modern Family" which is a documentary- style situation comedy. The series has become a huge hit and won several awards. It was won the Outstanding Comedy Series Emmy two years running, and Ed finally got an Emmy nomination for himself (Best Supporting Actor in a Comedy Series) in 2011, after being notoriously overlooked the previous year. August 2011 saw Ed receive a star on the Hollywood Walk of Fame. Modern Family's creator Steve Levitan and Ed's two television wives gave speeches at the event. FILMOGRAPHY FILMS Date Title 1980 Cruising 1980 The Dogs of War 1989 K-9 1989 Disorganised Crime 1990 Sibling Rivalry 1990 The Adventures of Ford Fairlane 1991 Dutch AKA Driving Me Crazy 1992 Wayne's World 1993 Wayne's World 2 1994 Blue Chips 1994 Little Giants 1997 Prefontaine 1997 The Spanish Prisoner 1999 The Bone Collector 2000 Lucky Numbers 2001 Nobody's Baby 2004 Spartan 2005 Steel Valley TELEVISION MOVIES / MINI-SERIES Date Title 1980 The Day the Women Got Even 1982 Farrell for the People 1983 When Your Lover Leaves 1985 Braker 1986 A Winner Never Quits 1986 Popeye Doyle 1987 Right to Die 1988 Police Story: Gladiator School 1990 The Whereabouts of Jenny 1990 A Very Retail Christmas 2000 The Tenth Kingdom 2006 Inseperable TELEVISION SERIES Date Title unknown All My Children 1984 Miami Vice - "Heart of Darkness" 1985 The Equalizer - "The Children's Song" 1985 Hunter - "The Garbage Man" 1986 Spenser: For Hire - "Widow's Walk" 1987-97 Married... with Children 1987 Hollywood Squares 1989 Midnight Caller - "Twelve Gauge" 1990 In Living Color 2001 Big Apple 2003-04 Dragnet 2005 The West Wing 2005 8 Simple Rules - "Old Flame" 2005 The West Wing [4 episodes] 2006 Twenty Good Years - "Between a Brock and a Hard Place" 2006 The Unit - "Silver Star" 2007 John From Cincinnatti 2009- Modern Family INTERVIEWS / SPECIALS Date Program 1989 Late Night with David Letterman 1989 Emmy Awards (presenting with Katey Sagal) 1989 After Hours (behind the scenes) 1990 Saturday Night Live 1990 Earth Day (as Al Bundy) 1990 Emmy Awards (presenting with Julia Duffy) 1991 The Joan Rivers Show 1991 Home Videos of the Stars (behind the scenes) 1991 Hey Hey It's Saturday 1991 Late Night with David Letterman 1991 Into the Night 1992 Backstage with The Bundys 1992 Hollywood Insider 1992 The Please Watch the Jon Lovitz Special 1993 The Whoopi Goldberg Show 1993 Arsenio Hall 1994 Arsenio Hall 1993 A Day in the Life of... (behind the scenes) 1990 An Evening at The Improv (with Katey Sagal) 1993 The Late Show 1993 MTV Video Music Awards 1995 My Favorite Married 1996 Entertainment Tonight ("Spring Break") 1997 Bundymania 1997 Home and Family 1998 Later 1999 Celebrity Profile (Christina Applegate) 2000 Celebrity Profile (Katey Sagal) 2001 The Rose O'Donnell Show 2001 E! True Hollywood Story: Married with Children 2003 Married with Children Reunion Special 2009 Late Night With Jimmy Fallon 2010 Tavis Smiley 2010 Larry King Live 2011 Inside The Actor's Studio 2012 Kevin Pollack's Chat Show STAGE Date Title 1979 Knockout 19?? The Front Page 19?? A Streetcar Named Desire 19?? One Flew Over the Cuckoo's Nest 1986 Of Mice and Men RADIO PLAYS Date Title 1998 A View From The Bridge OTHER / MISCELLANEOUS Promotions for Married... with Children and its syndication. Many commercials, especially for 1800-COLLECT.
---
Have I missed something? Let me know

Otherwise, head on back