older news





2012 Do you follow David Faustino on Twitter or Facebook?


February 15th
Added some season 7 captures to the gallery


January 2011
Added some season 5 and 6 captures to the gallery


June
Faustino to Star in Bollywood Comedy:
Fresh from his success on Sony's new web series "Star-Ving", David Faustino has committed to play the lead role in the feature film The Bollywood Boys. Joining him in the cast is longtime comedy buddy Corin Nemec. The movie, written and to be directed by James L. Bills, will be shot on various locations in Hollywood and feature American and Indian actors in both leading and supporting roles.
According to Producer Al Gomez, The Bollywood Boys is the story of a couple of down on their luck Hollywood filmmakers, Tom Berrymore (Faustino) and Jerry Brightman (Nemec), who try to rekindle their dying careers by making the first Hollywood-Bollywood musical with the help of Mumbai mob money, and an aged, has-been, Bollywood star". Todd Bringewatt (Rules of the Game) of F.N.B. Entertainment joins Al Gomez as the producers of this hilariously offbeat comedy. Filming is slated to begin in the summer of 2009.





Married with Children's Bud Bundy, David Faustino, is back and bare-assed! David & his whacked-out sidekick, Corin Nemec of Parker Lewis Can't Loose, will do anything to get back on top. Nobody ever said that being a short, broke, alcoholic, sex maniac, ex-child actor was easy.

Airing every Friday on Crackle, starting January 16th! Also starring Christina Applegate, Ed O'Neill, Katey Sagal, Gilbert Gottfried, and Coolio. For more Star-ving go to http://crackle.com/c/Star-ving!




February 2009 Filmography updated


Star-ving airing on Crackle.com

David new series is currently screening on the crackle website. New episodes air each Friday. Check out episode 4 in particular for a Bundy reunion. The show is also on youtube, but there the show has been censored, and at least one episode banned completely.


"Star-ving" in production
WEB FEAT: David Faustino, who played Bud Bundy on "Married with Children," admits it hasn't been easy being associated with the same character for most of his life, but he's turning that frustration into an Internet comedy. "People recognize me as Bud every day of my life. It never ceases to amaze me, but I've learned to just accept it, and I think I handle it better than others. I take it in stride, and I'm grateful that people are still recognizing me," says Faustino. "Of course it's been challenging in certain areas, but I finally embraced it. Now I'm writing a show and just sold it to Sony Digital. I call it 'Curb Your Enthusiasm' meets the anti-'Entourage,'" he tells us of his latest project, which has his former co-star Ed O'Neill playing a recurring character. "I play a self-deprecating caricature of myself. It ended up being a really fun show, so I'm really excited about it. It will be broadcast on the web starting in December." Faustino is also happy about "Married with Children" being on the air again as Spike TV has acquired the rights to all 259 episodes of the popular sitcom. "Spike has the demographic that is perfect for 'Married with Children,'" he notes. "I'm sure some stuff is outdated, but I think a lot of it was cutting edge at the time, so much that a lot of the humor will definitely stand up today. Besides, I think any opportunity for people who have already seen the show to see it again or for a new generation who haven't seen it yet to check it out is great."
source: http://www.nationalledger.com/artman/publish/article_272623030.shtml


David Faustino celebrity impersonator calls it quits

David Faustino celebrity lookalike Jerry Martler has decided to quit show business after a frustrating 11 years working as an impersonator. Martler has been impersonating Faustino and his character Bud Bundy for over a decade, but since Faustino hasn't done much since "Married with Children" went off the air in 1997, Martler can no longer continue his work as celebrity impersonator.
"I look so much like David Faustino that I used to make a living impersonating him at parties and bah mitzvahs. Every year since the show ended, I kept waiting for David to do something so I could start making money again. It's been a long 11 years. A lot of tough times without money. That's why I made the decision. There just isn't a demand for Bud Bundy anymore."
Martler is the second celebrity lookalike to call it quits in the past two weeks. Jeremy Eriklow, who impersonated Robert Wuhl as Arliss Michaels, shot himself last Wednesday after a long struggle trying to get work as a Wuhl lookalike, including the period when "Arli$$" wasairing on HBO.



June 21st
added season 3 and season 4 captures


June 18th, 2008 Married With Children Star Enters Into Three Film Deal With Red Rock Pictures

LOS ANGELES, a film and entertainment marketing company, announced today that it has entered into an agreement with Los Angeles based F.N.B. Entertainment to develop and produce three feature films. F.N.B. Entertainment is the production company owned by well known television actors David Faustino and Corin Nemec, along with managing partner, Todd Bringewatt.
"We're thrilled to have the opportunity to work so closely with David and Corin," said Red Rock Chief Executive Officer, Reno R. Rolle. "These incredibly recognizable and talented guys have a great chance of emerging as the Laurel and Hardy comedy team of our generation."
David Faustino starred as "Bud Bundy" along with Christina Applegate, Katey Sagal and Ed O'Neill, in the television sitcom Married With Children. Now in syndication, Married With Children is the second longest running show in FOX history behind The Simpsons. Corin Nemec starred as the lead in another hit FOX show, Parker Lewis Can't Lose, which ran for three seasons in the nineties. Each of the films' scripts is being co-developed by Red Rock Pictures and F.N.B. The first project is slated to commence in the fall of this year, and will be directed by Sam Kass, best known for his long running role as writer, producer and director on NBC's Seinfeld.
Todd Bringewatt, Managing Partner at F.N.B. Entertainment stated, "David and Corin as a comedy team are likely the best kept secret in Hollywood. Stepping up to partner with us proves Red Rocks' strength of vision as an emerging leader in the entertainment industry. We're beyond excited to be working with Reno Rolle and his team."

Source: Red Rock Pictures Holdings, Inc.


Janurary 20th, 2008 David completes drug treatment and charges dropped

By The Associated Press
NEW SMYRNA BEACH, Fla. (AP) - Volusia County prosecutors have dropped a drug charge against actor David Faustino, best known for playing Bud Bundy on the TV series "Married With Children." Faustino was charged in May with misdemeanor marijuana possession after he was arrested during an argument with his estranged wife.
Officers who intervened in the couple's argument said Faustino's breath smelled of alcohol, and he had a plastic bag containing a gram of marijuana in his pocket. A disorderly intoxication charge was dismissed soon after the arrest, and Faustino agreed to complete a drug treatment program. Faustino completed the treatment program in California, where he lives. His attorney says the actor received no special treatment from prosecutors.


Source: United Press International
Prosecutors in Florida have dropped a misdemeanor pot possession charge against actor David Faustino after he completed a substance-abuse treatment program. He received no special treatment from the State Attorney's Office, Faustino's lawyer, Mike Rodriguez, told the Orlando Sentinel. He did what was asked of him, and he fulfilled all of his conditions.
The former Married.... with Children star, who is a Los Angeles resident, completed the requisite program in California, the newspaper said. Faustino was arrested by a New Smyrna Beach officer last May after a drunken, early morning spat with his now ex-wife in the middle of an intersection. The actor was arrested after the officer discovered marijuana in his pants pocket, the Sentinel said.


December 29th David's divorce finalized

LOS ANGELES — "Married ... with Children" actor David Faustino isn't married anymore. Faustino, who played Bud Bundy on the hit TV comedy, ended his marriage to Andrea Faustino, according to documents filed Friday in Superior Court. He filed for divorce in February, citing irreconcilable differences.
The documents also indicate the two reached agreements on spousal support, division of property and attorney fees, but further details were not disclosed. An after-hours call to David Faustino's attorney was not immediately returned.
The duo married in January 2004 and separated in May 2006. They had no children.
Source: Daily American Online


December 18 David on Myspace next year:

NEW YORK - MySpace has teamed up with best-selling author Neil Strauss for a series of short videos based on Strauss' dating guide, "The Rules of the Game," in which various rules will be acted out by "Married With Children" actor David Faustino and "Parker Lewis Can't Lose" star Corin Nemec. Through Valentine's Day, eight three-minute videos will be aired weekly on MySpaceTV and on Strauss' MySpace profile.
"MySpaceTV has enabled me to not just tell people how it's done with a book, but to also show them with videos of real-life interactions," said Strauss — best known for "The Game: Penetrating the Secret Society of Pickup Artists" — in a statement.
"After watching David Faustino get actual phone numbers with, for example, his identity concealed, his hands tied, and his mouth duct-taped, no guy should ever have to fear approaching a woman under normal circumstances again."
The videos will feature commentary from Strauss, and MySpace users will be encouraged to submit their own videos. Both MySpace and Strauss' publisher, HarperCollins, are owned by Rupert Murdoch's News Corp.
"There's no denying our users know what they're doing when it comes to relationships, but it never hurts to get tips from a pro, does it does it?" Jason Kirk, director of marketing and content for the social network, said in a statement. (http://www.myspacetv.com)
Source: Assosciated Press / Yahoo News December 2007.


December 2nd David films a pilot?
http://www.celebritypuke.com/2007/11/03/david-faustino-films-a-pilot-in-hollywood/


May David Faustino was arrested for marijuana possession On May 12, 2007.

David Faustino was arrested on charges of marijuana possession and disorderly intoxication in New Smyrna Beach, Florida, and taken to the Volusia County Branch Jail. Police allegedly spotted Faustino and his wife Andrea at an intersection late Friday night. Faustino first reportedly tried to climb out the car window. He then opened the door and allegedly tried to walk away when police confronted the couple. The officer smelled alcohol on Faustino's breath and found a plastic bag with a gram of marijuana in his pocket. Faustino was booked into Volusia County jail and released the same day.

A disorderly intoxication charge against David was dropped, but he still faces a drug charge. The charge was dropped because Faustino's arrest was sufficient punishment for the disorderly intoxication charge, a spokeswoman for the State Attorney's Office said.
Faustino still faces a misdemeanor charge of marijuana possession, punishable by up to a year in prison, Pruitt said. He has pleaded not guilty.

Check out his mugshot: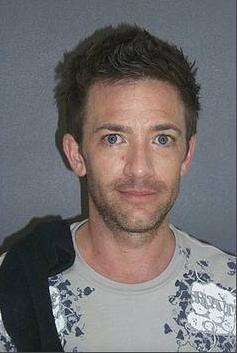 February 7th Check out the "I Told Ya"! music video. Very rare!


February 6th David has filed for divorce

"Married With Children" actor David Faustino wants to be unmarried.
The 32-year-old actor, who played Budrick "Bud" Bundy on the popular TV sitcom, filed for divorce
Monday from his wife of two years, Andrea Elmer Faustino, according to papers filed in Los Angeles
County Superior Court. Faustino cited irreconcilable differences as the reason for the split, the AP reports.
The two married in January 2004 and have been separated since May, according to the court
papers. The couple had no children.


January 29th Added caps from the MWC True Hollywood Story

January 19th Added David in Parker Lewis Can't Lose and Blossom to the filmography

Januray 15th Updated the filmography: Celebrity Profile: Christina Applegate and Celebrity Profile: Katey Sagal

Januray 2007 BACK ONLINE!