contact
Disclaimer: I am not David Faustino. I'm just his number #1 fan. :)

E-mail me: marriedaniac@yahoo.com
for any questions and comments, or to link your David Faustino site here.

To link to this site, please use this banner:






David himself is active on the social network.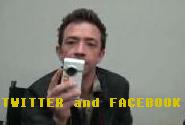 Twitter
and
Facebook


~

David Faustino's snail mail addresses:

1806 North Maple Street,
Burbank CA 91505;
U.S.A.

OR

10100 Santa Monica Boulevard,
Los Angeles, CA 90067;
U.S.A.

OR

1348 Londonderry Place,
Los Angeles CA 90069
U.S.A.

I have no idea if any of these addresses are valid or not.


Have you ever met David?
I'd love to hear from you if you have, and I can post any fan experiences on this page.

If you have ever written to David at any of these addresses or know of another possible address to write to him, I would love to hear from you.